Chicago Schools Go Green – will you!?
ACE Students
|
April 5, 2010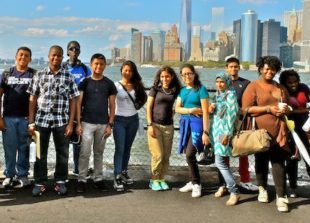 By Lynda Lopez, ACE Field Correspondent and student at Prosser Career Academy
As a student reporter for the Chicago Tribune's weekly high school newspaper The Mash, I don't always know what I am going to be investigating! Recently, I was lucky enough to be assigned the cover story for an article entitled "Going Green in Chicago." I have never felt so deeply impacted by a story before.
During the course of three weeks, I interviewed dozens of people around Chicago for this story. From administrators at schools to students in environmental clubs, I was able to learn about the great things that students are doing within their schools to help the environment. Here's a snapshot of what I learned:
Evanston Township High School organized "No Tray Tuesdays" to reduce the amount of waste their lunchroom produces! And Lincoln Park High school participated in the event "Climate Cycle" to win solar panels for the school's swimming pool. Students are biking for several miles to show their dedication to greening up their school!
I could keep going on and on about all the amazing things that I found out about what students are doing to help the environment, but there are just too many to count. I am so excited that students around Chicago are showing that people CARE!
Personally, I have always tried to keep optimistic about the state of our environment. I use a reusable bag at the store and I shop at thrift stores whenever I get the chance to – BUT I can lose my willpower if I see that no one else around me is doing anything at all.
And this idea, that my willpower grows or shrinks in relation to what others are doing or not doing, is precisely why speaking to all the amazing students in Chicago refreshed me, inspired me and showed me that there are myriad of people playing their part to help the planet thrive.
Lynda Lopez is a student in the 12th grade at Prosser Career Academy in Illinois. She is a Field Correpsondent for ACE and also a writer for the Chicago Tribune's student newspaper The Mash.