ACE Climate Leaders take over L.A.!
ACE Students
|
March 10, 2010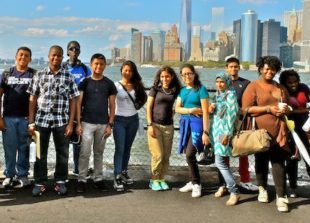 By Jenna Hoover, ACE Field Correspondent
One dismal morning in March 2010, twenty environmental leaders congregated at Sacred Heart High School to learn how to successfully launch a campaign. Little did these high school students know that they would also become rappers and seedball-makers during the next six hours!
Among many other things, the ACE Leadership Training on Saturday, March 6, 2010, taught its participants that in order to become successful leaders, they must go beyond their preconceived perceptions of themselves.
Walking into Sacred Heart, I had no awareness of my ability to create a successful campaign. But after we were instructed to think of a plan to fight climate change in a certain environment, I knew that everyone in the room possessed the ability to make a difference.
Attending the training did not just teach me how to create a successful campaign; it also gave me confidence about starting one. Because the presentation broke up the process of launching a campaign into eight steps, the act of starting an environmental movement seemed a lot less intimidating. Also, being surrounded by teens who have already done so much for the environment inspired me. Through the activities, speakers, and interactions of the day, I had a single revelation that will always stay with me: With passion and perseverance, we, the youth of today, can and will conquer climate change.
Jenna Hoover is currently a sophomore at West High School in Torrance, CA, where she is a member of the Environmental Club and ACE Action Team. Outside of school, she also enjoys volunteering, especially as a habitat restoration volunteer at the Madrona Marsh.