ACE in Arkansas
ACE Alumni
|
March 3, 2010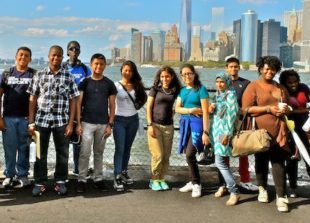 Check it out, ACE!  Here's a quick download of our time in Arkansas.
And a few words from John Bernhardt, our Educator Extraordinaire (featured in the above movie with me):
Last week, Emily Adler and I had the privilege of traveling throughout the great state of Arkansas. We experienced the beauty of 'The Natural State,' presented to over a thousand students and met a bunch of climate heroes taking action to lower their carbon footprint!
Why Arkansas you ask? Well, ACE—in partnership with Focus the Nation—is organizing a Clean Energy Town Hall in Jonesboro on April 3rd. This event will bring together state leaders, business leaders, professors, community members, and, of course, high school students to talk about climate change and energy.
Everywhere we went in the state, we found high school students interested in being part of the Clean Energy Town Hall and wanting to raise their voices on the issue of climate change!
We'll keep you updated as the Clean Energy Town Hall gets closer. But, for now check out the video above to see highlights from our week in Arkansas!