Greenlympics
ACE Alumni
|
February 23, 2010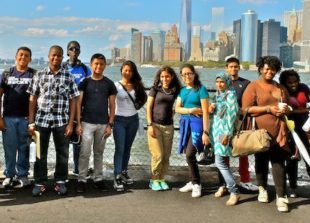 Seth Wescott just won an Olympic gold medal in snowboard cross in Vancouver (to add to his gold medal from 2006). Naturally, ACE caught up with Seth and caught his DOT in the video above. As you can see, it's one of the most creative DOTs yet.
Much has been made about how the Vancouver Olympics organizers have striven to make this the first carbon-neutral Olympics ever. I was fortunate enough to catch a few days of the Olympics in Vancouver on vacation last week – and I'm back with an on the ground report.
It felt pretty green to me. I took public transportation just about everywhere; in fact, spectators were only permitted to travel to mountain events by bus. Most "party" areas I visited closed up around 11 or 12, and obviously turned off the lights toward the end of the night. There were ample recycling bins too – thought after living in San Francisco, I come to expect composting options well. (Something to work on in London.)
One could fairly argue that these Olympic organizers have done a lot wrong; the Glitch Games have featured a luge tragedy, a torch malfunction, and a broken Zamboni-knockoff ice resurfacer that delayed a speed skating event I attended for 90 minutes! And, due to warmer weather than usual (see: climate change!), organizers have been forced to helicopter and truck in snow for events, which isn't good at all for their carbon footprint.
Yet overall, it felt like Vancouver made a serious effort to go green. On a stage as magnificent as the Olympics, that deserves at least a bronze medal.