X Games Xtravaganza – ACE victory arrival in Aspen!
ACE Alumni
|
January 29, 2010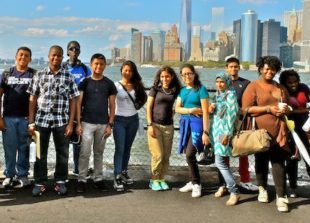 Imagine getting out of school for the day, and getting bused over to the coolest thing in, well, the country right now – the Winter X Games. You walk up the main entrance, into a world of captivating lights and free swag and of course all your favorite X Games athletes. Ahead of you, you can see snowboarders ripping sick trips on a huge halfpipe, and off the the side snowmobilers are flipping and twisting and doing all sorts of insane stuff that in my personal opinion should be banned in some of the crazier states.
But before you can go get a closer look, first you have to watch a presentation on climate change.
Talk about delaying self-gratification. Wow. It's a huge credit to our dashing Chicago lead educator, Michael LaFemina, that the ACE presentation delivered during Kids Day at X Games held 450 students riveted. With the ACE presentation playing on the X Games Jumbotron, Michael climbed up on the Official X Games gold-medal podium (seriously!) and spooled out our climate change story. (It reminded me a little of Speakers' Corner in London, the old soap-box rump speech.)
Next, leading athletes took the stage to talk about the environment. Lyn-Z Adams Hawkins, a 7-time X Games medalist in women's skateboarding, told us how she's starting a jeans line made out of Veco-friendly materials, and called on students to turn off the lights, recycle, and rock it. Pro snowboarder Jussi Oksanen told the students how he cares so much about the environment that he started his own reusable water bottle company! (Needless to say, we hooked him up with an ACE water bottle for competitive reference.)
Awesome day all around. In closing, check out this amazing 11-second video featuring a DOT from Chris Klug, Olympic bronze medalist in snowboarding!