What's Your DOT?
ACE Students
|
January 12, 2010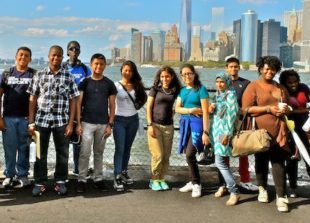 It's 2010 – the dawn of a new decade (not to be confused with 2012!). Over here at ACE, we've made some green resolutions to kick off a decade of change and we wanna know: what's your green resolution of 2010?
To make a great green resolution, you don't have to go live in a cave or wear only hemp clothing, you just gotta choose a DOT – a Do One Thing. A DOT is one thing you'll do to have a positive impact on our planet.
Here are a couple of DOTs to get your gears turning:
Do it in groups and carpool to school in your friend's new car
Charge up your iPod on the way to class with a solar powered backpack
Turn off the water when you're shaving your face, legs or pet monkey (depending on what you're into)
What's yours?
In the next week, choose a DOT and post it to our blog in the comments section below.
We'll feature the best DOTs on our Facebook page as we gear up to get down at the Winter X-Games in two weeks! Your DOT might even show up on the jumbotron in Aspen…
Happy New Year!